AN AGROTOURISM UNIT
IN THE HEART OF THE DOURO WINE REGION
With a breathtaking view over the Douro River and the Tedo River, it is in the heart of the Douro Wine Region that the Vila Galé Douro Vineyards is set. With a strong component of agro and wine tourism, this unit extends across the centuries-old Val Moreira Estate (Quinta do Val Moreira), which was already present in the famous Baron Forrester's map, created in the nineteenth century, which earned him the reputation of a cartographer.
On the south bank of the Douro River, near the picturesque village of Marmelal, the property where Vila Galé Douro Vineyards is set is very close to one of the two stone markers built by order of the Marquis of Pombal in 1757. These markers are classified as property of public interest, and they were used to demarcate the zone of Douro fortified wines, which were at the time put under the jurisdiction of the General Company of Agriculture of the Alto Douro Vineyards (Companhia Geral da Agricultura das Vinhas do Alto Douro). This is how the first demarcated wine region of the world was born. Nowadays, terraced vineyards make the landscape that surrounds this unit unique.
Vila Galé Douro Vineyards stands out for its location, charm and exclusivity. Here you can enjoy the calm and silence, the scenery, but also the outdoor pool, the regional cuisine of the Val Moreira restaurant, whose large windows allow you to gaze at the surroundings. But you may also enjoy tours to the wine cellar, as well as wine tastings of the Val Moreira brand's Port and table wines, which are produced there.
You can also enjoy walking among the vineyards, the olive grove or the almond tree grove (which are particularly beautiful during the almond blossom season), always alongside the Tedo and Douro rivers. To complete your stay, take a river cruise, visit the region's wine producing estates or take a train ride. Admiring the almond blossoms or taking part in the grape harvests are other activity suggestions.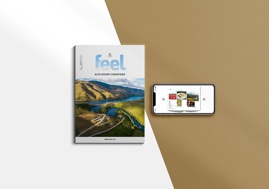 FEEL MAGAZINE - ALTO DOURO VINHATEIRO