THE BIGGEST 'ALL INCLUSIVE' RESORT
of Carro Quebrado beach
Vila Galé Alagoas is located in the municipality of Barra de Santo Antônio, just 40 kms from the capital Maceió, and boasts an impressive structure: there are 492 rooms, four pools, seven restaurants, five bars, a Nep Club for children with a water park, Satsanga Spa, nightclub, a 2,000 m2 convention centre with capacity for up to 1,200 people in an auditorium, among other attractions.
Among its unique features, it has a 100-metre long swimming pool, a water park, beach tennis court and the restaurant "Museu do Sertão", which makes references to the state of Alagoas. The resort also pays tribute to Portuguese language writers from Brazil and Portugal. Every detail was designed to celebrate that theme.
The room categories available at the new resort are: room, family room, superior room, suite, superior suite, chalet, superior chalet and master chalet. For those seeking a differentiated experience for the whole family, there are options of chalets and Nep family rooms, which are decorated with the hotel network's children's characters. Children aged up to 12 staying in their parents' room are not charged for accommodation and meals.
Gastronomy is also the highlight of the new resort. The "Versátil" restaurant is the main one and offers buffet service. The "Inevitável" restaurant combines Portuguese and Mediterranean cuisine, the "Massa Fina" offers artisan style pizzas and pastas, while the "Museu do Sertão" restaurant offers typical dishes from the state of Alagoas. Designed for children, the "Nep" restaurant offers children's food prepared without preservatives. In turn, "Cervejaria Portuguesa" is a Mediterranean delicacy bar and restaurant. You can find the complete menu of each restaurant here.
All the structure and services offered guarantee an unforgettable experience for guests of all ages and add up to the cinematographic scenery of the Carro Quebrado Beach. Coconut trees, emerald green sea and the famous multicoloured cliffs that outline the whole length of the beach make Vila Galé Alagoas a paradisaical destination.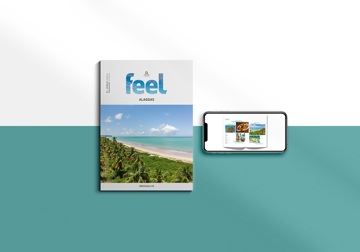 READ OUR MAGAZINE AND FEE INSPIRED