IN THE NOBLE AREA OF SALVADOR
SET AT THE ONDINA BEACH
The Vila Galé Salvador hotel is located just opposite the beach of Ondina, one of the city's prime areas, just a few minutes from the city center and only 20 minutes from the airport.
This hotel in Salvador was renovated in 2017 and features spacious and modern rooms and suites, most of them with a superb ocean front view. It also has a restaurant, one bar in the lobby area, a pool with deck and steam sauna.
Furthermore, Vila Galé Salvador offers a complete infrastructure in order to host meetings and professional events.
During your stay in this hotel in Salvador, do not miss some of the main city tourism sights, such as the Pelourinho with its colonial architecture, the Farol da Barra, the Church of São Francisco, the Church of Our Lady of Bonfim, the Mercado Modelo market, the Solar do Unhão and the Museum of Modern Art.
In a state capital where the new and the old graciously blend, giving the charm that characterizes this city, take this opportunity to visit the Lacerda Lift, the Santa Luzia Gates or the shopping areas. And also to savor the iconic dish Acarajé.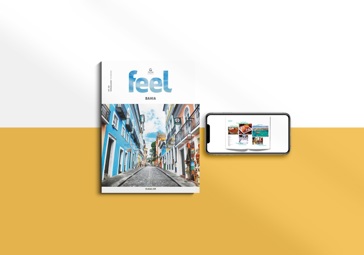 FEEL MAGAZINE - RIO DE JANEIRO
READ OUR MAGAZINE AND FEE INSPIRED