A HOTEL DEDICATED TO EQUESTRIAN ART
INSPIRED BY THE ALENTEJO TRADITIONS
Vila Galé Collection Alter Real - Equestrian Resort, Conference & Spa is a hotel located in Alentejo, in Alter do Chão, within the Alter Stud Farm, the most ancient in the world.
This 4-star unit features 77 rooms, two outdoor pools for adults and one for children, a Satsanga spa with a heated indoor pool, a "Inevitável" restaurant with regional cuisine, and a "Dressage" bar. It also has a library, two meeting rooms and an event hall.
For more intimate occasions, it also has a fully restored traditional olive oil mill, with a typical wood-fired oven, and a wine shop, where the hotel often organizes regional wine and olive oil tastings.
This boutique hotel in the Alentejo is inspired by the site's history, and it comes as no surprise that it is dedicated to the equestrian theme. Home to the Lusitano purebred horse, the Alter Stud Farm was created in 1748 by King D. John V and is deemed the oldest in the world to operate uninterruptedly in the same place.
Here, you can take the opportunity to take a guided tour of the stud farm, but also experience riding a horse for the first time. Carriage driving, round pen horse ride lessons and horseback rides are also available, both for beginners and aficionados.
Another suggestion not to be missed is a visit to the falconry house and its museum. Watch the flight of the falcons, try the "flying the bird to the glove" and be amazed by the magnificence of these animals.
Set in the heart of the Tapada do Arneiro Estate, with about 800 hectares, Vila Galé Collection Alter Real is the right place to enjoy the richness of fauna and flora, indulging in the simplicity of nature tourism, ecotourism, and outdoor activities.
Have a picnic in the countryside, sip a glass of wine at sunset or enjoy the evening by the outdoor fireplace on the coldest days.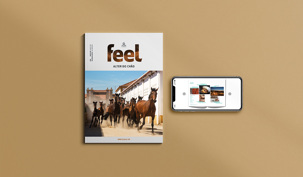 READ OUR MAGAZINE AND FEEL INSPIRED